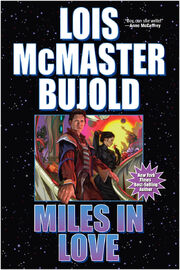 Miles in Love
, written by
Lois McMaster Bujold
and published in 2008 by
Baen Books
, is an omnibus edition book from the
Vorkosigan Saga
, containing the books
Komarr
and 
A Civil Campaign
, and the novella "
Winterfair Gifts
".
It covers the time period after Miles begins his second career as an Imperial Auditor, focusing on his meeting with and marriage to Ekaterin Vorsoisson.
Behind the scenes
Edit
The title Miles in Love was inspired by the movie titled Shakespeare in Love.
Ad blocker interference detected!
Wikia is a free-to-use site that makes money from advertising. We have a modified experience for viewers using ad blockers

Wikia is not accessible if you've made further modifications. Remove the custom ad blocker rule(s) and the page will load as expected.